Exclusive Interview with Historical Author Rita Gerlach
What an honor it is to have author Rita Gerlach on the blog today for a fun and inspiring interview! She is such a sweet and special soul—and if you haven't read her books yet, you certainly must. So without further ado, let the questions begin!
Hannah: So excited to have you on the blog today, Rita! Can you tell us about the first moment you realized you were born to be a writer? How did that realization make you feel?
Rita: Thank you, Hannah, for having me. Realizing I wanted to be a writer was actually a gradual thing. As a child, I daydreamed a lot, and I'd get in a bit of trouble from my teacher for staring out the classroom windows. When I was around eleven, I wrote my first story, and made illustrations to go with it. Years went by. Marriage. Kids. I began reading old novels in my thirties, and then one day the spark hit me. I can't say when the precise moment was, except I had read a romance by a famous author and thought, 'I could do this'.  I began writing in the 1990s. 
Hannah: What led you to write historical fiction? 
Rita: Honestly, my love for old novels. I was hooked into the genre through them. I discovered authors long gone in a used bookstore. Mary Johnston. Warwick Deeping. Robert Chambers, and Raphael Sabatini. Currently I am reading a novel by Berta Ruck written in 1916. Hand me a novel that old and I'll read it.
Hannah: What do you feel are the biggest highs and lows of being an author? 
Rita: The biggest highs: When a reader sends me a note to say my story influenced her life in a positive way, and when I receive a book contract from a major publisher. The biggest lows: I assume you mean the biggest disappointments. For me, it was getting a rejection letter. I am past that now having grown older, more focused, and having branched out independently.
Hannah: Who has been your biggest inspiration and encourager along this journey?
Rita: Inspiration and encouragement seem to go hand-in-hand. My husband has always been my biggest supporter. This is a man who has me read my works in progress to him, when he could be out fishing. 
Hannah: If all your books were to be lost forever except one, which book would you choose to save—and why? 
Rita: After the Rain. This novel was the most fun to write. 
Hannah: Where do you go to write? A quiet bedroom? A desk?
Rita: My desk. I mentioned as a child I daydreamed and would stare out the classroom window. My desk sits under a window, and I still have moments, when I pause and daydream a story.
Hannah: Who is your favorite author and how has their work affected you? 
Rita: I deeply love and admire all the Christian authors I've read and met over the years. But the one author that is my favorite is Mark Twain. His writing style is unmatched, and has not affected mine per say. But his quotes on writing certainly have.
Hannah: If you had one word of advice to share with every writer in the world, what would it be?
Rita: Write stories that will have a positive impact on others, and do it because you love to.
Hannah: What is your favorite aspect of writing romance? 
Rita: Writing a happy ending.
Hannah: And lastly, just for fun, if you had a time machine sitting in your backyard, what year would you go to? 
Rita: September 1945 when WWII ended. The reason is I'd like to see my dad and uncles who served returning home, my mother and my aunts who served on the home front, and my grandmother Bess Robertson who prayed all her boys would make it home. The icing on the cake would be to see my parents' romance rekindle. For a brief moment in time, I'd go back to the day Jesus is preaching the Sermon on the Mount. I would want to sit in the grass near him, and soak up every word.
Hannah: Thanks so much for joining us here today, Rita—and it's been such a joy to interview you! What lovely answers! Congratulations on your upcoming re-release of After the Rain, as well!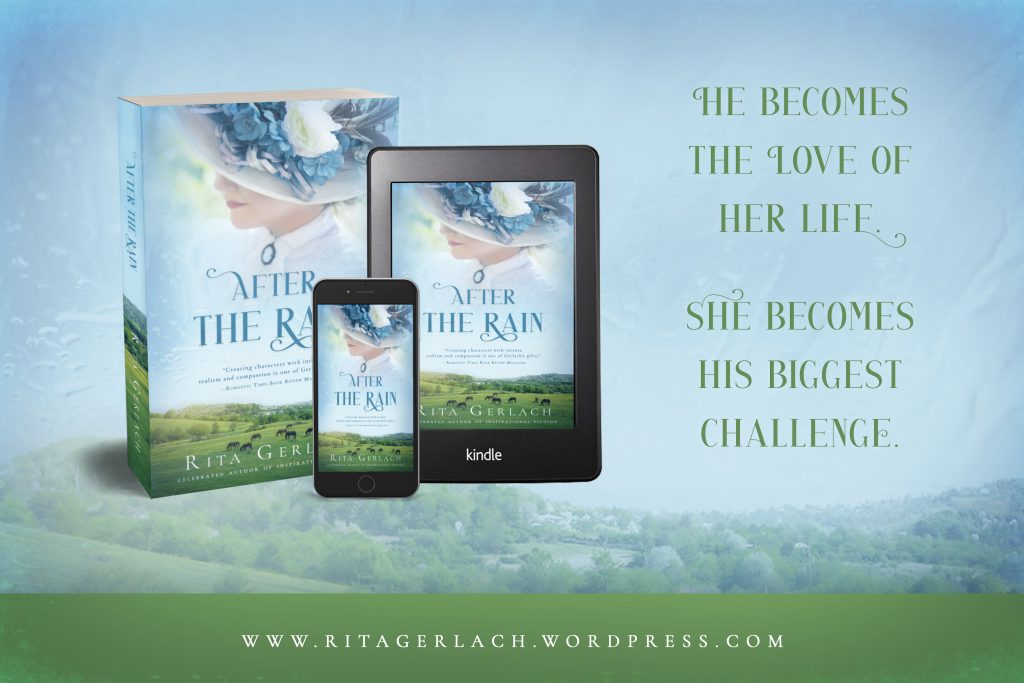 For anyone who hasn't read Rita's books,
go connect with her now!